Zooba mod apk 3.41.3 (Unlimited Sprint Skills)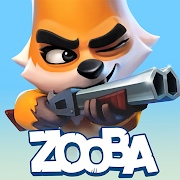 | | |
| --- | --- |
| App Name | Zooba |
| Genre | Action |
| Developer | Wildlife Studios |
| Size | 215M |
| Latest Version | 3.41.3 |
| Mod info | Unlimited Sprint Skills |
| Update | August 03, 2022 (1 years ago) |
If you are already a fan of the Battle Royale game genre combined with MOBA like PUBG Mobile or Free Fire, Zooba will be a name that you should definitely not ignore. This is a game produced by Sniper 3D Gun Shooter, a famous action game publisher in the market. Although just released, this game has caused a storm because of its charisma and attraction when it takes players into an exciting animal world with survival battles to find out who is the "King of the zoo".
In addition, with feature effects, sound and graphics, this game will bring high drama to you while running away and chasing enemies.
Introduce Zooba
Have you ever tried to imagine that one day, on a fierce battlefield, the sight you see will not be soldiers but lovely animals holding AK guns? Coming to Zooba, you will not play the role of a zoo visitor but will be transformed into animals such as tigers, leopards, and lions to participate in the fierce battle for survival and take the throne.
Although it is an action game with lovely character creation and vivid context, this game is perfectly suitable for many different audiences, and you will certainly easily approach the gameplay. Currently, this application has been released for free on both iOS and Android platforms.
Role Play Cute but Powerful Animals to Fight Enemies
Zooba is often referred to as the PUBG Mobile zoo version. This is also because, in the game, you can choose a lot of different animals to make your character, depending on your preferences and tactics. For example, you can select Bruce, the gorilla with a lot of blood, the chameleon Larry with the ability to sneak attacks, etc.
In the first battles, the publisher will let you choose 1 of 3 available animals, and this number will increase as the game progresses. Specifically, as you level up and earn more gold, you can unlock more characters.
Besides, to create fairness in this battle for survival, each character will have their strengths and weaknesses. So, from the very beginning, you need to be familiar with the available characters' strengths and learn how to fight on the battlefield. This is an essential task because choosing the right style of play for each match will help you master the battlefield, or in other words, be a true King of the jungle.
Participate in Fierce Battles of Life and Death
Are you ready to participate in the dramatic battles in Zooba? Here, you will experience a fierce survival arena no less than PUBG or Free Fire.
At the start of the game, you will be placed in a PvP match with 19 other players without any weapons in hand. The task now you need to do is to quickly scour everywhere to find new weapons and skills for your character. However, the maximum number of weapons you can pick up is only three and comes with one essential skill to be able to face the enemy. Of course, skills will always have a cooldown and require you to know how to use them flexibly.
In addition, always pay attention that you must always ensure high concentration because the enemy can hide in the bushes anywhere and knock you down if you let your guard down. In particular, you must always remember the obvious that in any survival game, there will be a "safe zone." This is a space that will make you slowly die if you don't run into it in time. So finding an early spot in this space will make it easier for you to safely reach the final laps and first place. Although, in theory, as for what happens on the battlefield, your ability to survive will all depend on your skills and a bit of luck.
Don't Forget to Collect Items to Become Stronger
Besides skills, weapons are a very important factor in deciding your victory in brainstorming confrontations. So on each battlefield, don't forget the quest to collect and equip yourself with weapons and items. If you are lucky, you will soon find high-class equipment that can already hold more than 50% of the winning rate in your hand.
However, a useful piece of advice for you is that it will certainly be very easy to collect quality equipment when finding the enemy to kill. Because every time you defeat an enemy, you will receive loot from them as a "tribute".
More specifically, at a certain time, there will be "Airdrop" crates containing the most advanced equipment. This is the place that attracts the most players and inadvertently drags them into heated competitions. Therefore, do not pay too much attention to the items when you have enough equipment if you do not want to die in unexpected fights.
Join Your Friends in Dramatic Battles for the Throne
Zooba has two modes, Solo and Duo. So if you are tired of fighting alone in fierce battles for survival, you can create a room and invite your friends to play with you. In Duo mode, you will not fight alone but must combine with friends to survive and win together. So, prepare a high spirit of solidarity before joining the battle!
Amazing 3D Graphics
There is nothing to complain about Zooba's 3D graphics. With the design of diverse and colorful scenes such as volcanoes, deserts, or ice ages, you will not be bored. In addition, the characters are shaped from cute but equally cool animals that will make you feel like real life. In addition, there are unique skill effects for each character. Perhaps, you will want to try this game right away.
Zooba's MOD APK version
MOD Features: Unlimited Speed
​​You will not need to wait for the skill to cool down to use. Instead, you can use this skill whenever you want.
Download Zooba MOD APK for Android
This game has a lot of interesting features. You will need to do your best to protect yourself in the battle for survival and thereby claim the throne, mastering all animals.
Download Zooba now to transform into adorable animals and have a great time with your friends and loved ones.