Zombie Tsunami mod apk 4.5.128 (Unlimited Money)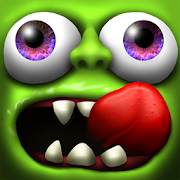 | | |
| --- | --- |
| App Name | Zombie Tsunami |
| Genre | Arcade |
| Size | 73.3Mb |
| Latest Version | 4.5.128 |
| Mod info | Unlimited Money |
| Update | October 03, 2022 (1 years ago) |
Are you a big fan of the Endless Runner series with light entertainment and easy play? if you are addicted to games like Temple Run, Despicable Me: Minion Rush,... Then you cannot ignore Zombie Tsunami, a blockbuster in the mobile game series.
Information you should know about Zombie Tsunami
If you are used to playing the main role when hunting and killing opponents in games revolving around zombies, in Zombie tsunami you will have a completely different experience. When participating in the game, players will play the role of "villains" - fierce, bloodthirsty zombies - roaming the city and finding ways to eat humans.
The type of endless running game is not strange to mobile players. Zombie Tsunami is a bit different from other games, your task is also to control a group of zombies running on the high highway through the city. However, the number of zombies will increase and decrease throughout the journey as you save the people in trouble on the road, overcome obstacles, and many other surprises coming to you.
Especially, the publisher has inserted many "unique items" for your zombie army. When "eating" the transformation box, your zombie "army" will sometimes turn into... ninjas, rugby players, and even becoming a big giant zombie. In general, this feature is not only "funny" but also very powerful.
However, life is not as beautiful as a dream, you will encounter unpleasant human devices. They are also equipped with a variety of modern and advanced weapons such as bombs, helicopters, and tanks to fight against your army. To win the level, the player needs to make sure that there is still at least one zombie on the way, if it is dead, you will lose.
The main goal of Zombie Tsunami:
First, you will press and hold controls to jump high, the longer you hold your finger on the screen, the longer the zombie will fall, in straight lines, the zombie will automatically run. Secondly, you need to avoid obstacles such as buses or tanks containing bad guys, and explosive bomb-shaped obstacles (hanging high or fixed on the road). Be careful with subsidence or fractured roads because you can fall down at any time. Moreover, try to increase the number of zombies during the run so that your army can confront human devices. When the screen appears with an exclamation, it means that there are moving obstacles ahead of you. It could be a car or plane crash, players need to actively avoid them.
Additionally, when your zombie force increases, the number of zombies is greater than or equal to the number of people in the vehicles, you can flip them easily by going through the car. For example, if there are 4 people in the car, your zombie army must have 4 or more to flip the car. You also should "save" the people you meet on the road, they are screaming and waving for help. Just go through them, and the zombie's mouth will automatically open to swallow them. The number of zombies in your team will increase in proportion to the number of people saved.
Last but not least, the number of people saved will be equal to the number of brains you collect. When you have enough 100 brains, you will receive attractive rewards or special power-ups, and support during the game.
Funny images and funny sound
Besides the simple but eye-catching graphics, Zombie Tsunami also has a fun sound to avoid boredom for players in the process of conquering the running way. The image of Zombie Tsunami is designed to be extremely funny and stylized, the image of zombies with their widened mouths open to eat everything has made a strong impression on players, bringing a more fun gaming experience than ever. It can be said that thanks to the visual and sound effects, ZT easily becomes an entertaining game that you will spend a lot of your time.
Play it or not?
In conclusion, Zombie Tsunami is entertaining not only for kids, but adults also enjoy playing it. The beat of this game is faster and faster making players have to concentrate a lot to play. Why don't we just experience it to see how interesting it is?