Top Offroad 4x4 Simulator mod apk 1.0.2 (Unlimited Money/Tokens)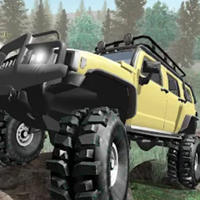 TOP OFFROAD 4x4 Simulator will undoubtedly provide you with a fantastic experience if you enjoy driving and exploring rough mountain terrain. Here you will drive 4x4 SUVs, pickups, and cargo trucks to complete all challenges in extreme environments. Your goal will be to overcome all the obstacles. Try out this game right away to put your driving abilities to the test. But keep in mind to finish every objective before the clock runs out.
Introduce TOP OFFROAD 4x4 Simulator
TOP OFFROAD 4x4 Simulator is an attractive off-road driving simulation game by FNK Games. Most of the games from this well-known publisher are made in the racing genre. Therefore, you can surely have the most realistic driving experience possible on challenging terrains like big rocks, mud, and more.
In the game, you will play as a professional driver, and your job will be maneuvering your off-road car safely across the road. The feature that distinguishes this game from others is the abundance of intriguing game modes that feature a variety of diverse terrain types, including hills, plains, mountains, etc. They will undoubtedly cause you to encounter several obstacles while making your discoveries.
Exciting Off-Road Driving Gameplay
The driver in the TOP OFFROAD 4x4 Simulator is incredibly realistic. On either side of the screen, you'll find a dashboard with crucial features, including torque boost, climb/obstacle mode, normal driving, and forward and reverse.
The majority of the challenges in this game revolve around gathering checkpoints. Along the trip, checkpoints will be distributed at random and assigned numbers. To successfully perform this mission, you must be equipped with good driving skills and avoid accidents. The algorithm will deduct points from your total if the car is destroyed or significantly impacted by the environment.
Additionally, the game's map is quite realistic and features rocky terrain. To fully accomplish the challenges, it compels you to use your driving abilities and the vehicle's features.
Challenge Your Driving Skills Through Multiple Modes
You can enjoy a wide range of driving emotions with the TOP OFFROAD 4x4 Simulator's many singular modes, which include Challenges, Extreme Challenges, Racing, Truck Challenges, and Mudding. Which will have Challenge as the primary game mode. You must finish every race in this mode's hundreds of races to gain stars and unlock new terrains.
In addition, Mudding is also a noteworthy mode. The terrain on the map is quite unique. To move faster in areas with lots of mud, soil, and water, your car needs good traction and a lot of torque.
Besides, you can explore the intricate details of a wide area by driving your car through it, such as a rainforest. Or mountains with lots of slopes and rocks give the player a modern and exciting style.
Diverse And Quality Car Collection
Another feature that attracts players to the TOP OFFROAD 4x4 Simulator is the automobile system. You can choose from a wide variety of Off-road SUVs in the game's garage. The most well-known vehicles will be displayed, like the Mercedes-Benz G-Class, Range Rover, and Jeep Wrangler. Additionally, you can observe various vintage car types with distinctive and avant-garde styling.
You should remember that you must consistently repair and improve the condition of your autos for them to travel easily on various terrains. To maximize the effectiveness of your trip, you should also modify how you utilize the vehicle to fit each terrain.
Advanced Graphics And Immersive Sound
The TOP OFFROAD 4x4 Simulator must have vibrant 3D graphics since it is a driving simulation game. The game's details are concentrated on aesthetics to provide gamers with a high-definition experience. The design of backgrounds, trees, obstacles, and collision effects is meticulous. With such advanced graphics, your device must meet certain requirements to play the game without lag.
Additionally, the game's soundtrack, engine, and vibrational effect will leave you with a lasting impression. Since everything is constructed to be as realistic as possible, you can hear birds chirping when driving through the mountains or the sound of rushing water while driving through muddy, watery terrain.
Download top offroad 4x4 simulator MOD APK for Android
Generally, the TOP OFFROAD 4x4 Simulator MOD APK includes extensive gameplay and offers a variety of scenarios for off-road enthusiasts to indulge their enthusiasm for traversing challenging terrain with potent off-road vehicles. The game features enticing action, great picture quality, and an excellent audio system. Therefore, it will definitely bring you the most comfortable and authentic feeling when enjoying. This game will be a great choice for your Android phone if you enjoy playing simulation games that feature terrain racing.