Rise of Kingdoms mod apk 1.0.55.16 (Full Game)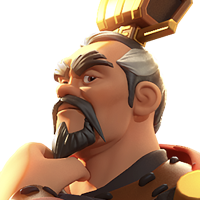 | | |
| --- | --- |
| App Name | Rise of Kingdoms |
| Genre | Simulations |
| Size | 112.3MB |
| Latest Version | 1.0.55.16 |
| Mod info | Full Game |
| Update | October 03, 2022 (11 months ago) |
Rise of Kingdoms, produced by Lilith Games, is a mobile real-time, multiplayer, strategy game set in a fantasy world with simulation features and a mode for adventure. This game's strategy consists of four aspects: explore, expand, exploit, and exterminate. Players can lead one of eleven different civilizations and choose the playing style that best suits them, whether it is the intensive pursuit of war and conquest, or casual exploration and discovery. Since this is a real-time online game, players must quickly decide how to attain early advantages against their human adversaries through strategic planning, resource optimization, and exploration.
A Game Suitable for All Types of Players
In Rise of Kingdoms, players will find themselves classified into three general categories of gaming style: strategist, networker, and treasure hunter.
Strategists are attracted to employing their tactical mindsets, careful planning, and continuous optimization to obtain rewards and resources. These players often have a slow start to each match since their planning requires deep thought and a lot of time, but will dominate during later portions of the match if their civilization has not already crumbled.
Networkers appreciate the community building, cooperative playing, and social interaction aspects of games and will try their hardest to work with other players to mutually build up their kingdoms. These players wish to tackle goals together as a team, but will not hesitate to fight in a competitive situation should the opportunity arise.
Treasure hunters seek the thrills of exploring new areas and new worlds, discovering new items and resources, and recruiting new characters. These players find fulfillment through finding valuables to expand their collections and, if in excess of certain materials, often work with other players in exchange for new items.
Overall, Rise of Kingdoms has a place for all types of players and offers interactive dynamics to enjoy each play-style.
Key Components to Building a Successful Kingdom
The foundation of every rising kingdom begins with three categories of buildings: economic, military, and other.
Economic buildings are used to obtain, refine, store, and trade resources. For example, the lumber mill produces wood that can be used to build other buildings, the storehouse collects and protects the player's earned resources, and the trading post allows for trade with other players.
Military buildings are used to recruit, train, and amass a variety of troops, and create weapons, armaments, and armors. For example, the scout camp dispatches scouts to dispel fog, locate tribal villages, and explore mysterious caves, the archery range trains and upgrades archer units, and the blacksmith forges equipment using the resources gathered by economic buildings.
The other buildings consist of the city hall, walls, and watchtowers. The city hall is the central building in the city and determines the maximum level of all other structures, sets the upper limit for research that can be performed, and determines how many troops can fit in hospitals, how many commanders and fielders can be fielded together, and how many troops can be in a commander's army. The wall is the main defense building in the city and is a requirement before upgrading the city hall. The durability of a wall is decreased after a successful attack from an enemy and must be manually repaired when damaged. The watchtower is the second defense building in a player's city and adds extra protection by increasing damage to attackers and absorbing damage for allied units.
Quickly Learn How to Play
Expedition is a game mode which allows players to wage staged battles against a computer AI for rewards and game proficiency. Missions can be completed by using troops and commanders already deployed on the map, gathering resources, or healing in the hospital. Each mission has its own objectives, giving the player experience with different play-styles to achieve certain goals. Using a three-star rating system, players who reach all mission requirements are awarded three stars and a bundle of useful resources to further develop their kingdoms.
Since these missions generally require players to defend or attack a city, construct buildings, train troops, and employ various tactics, the Expedition game mode is perfect for new players and for players who wish to develop more strategies to dominate in the online world of Rise of Kingdoms.
Come Join the Realm of Rise of Kingdoms Today
Rise of Kingdoms is an exhilarating, fast-paced, and strategic game that is easy to pick up and difficult to put down. It welcomes all types of players with various types of play-styles and is inherently challenging since players are constantly pinned against each other in conquest. Gamers can download this game on both Android and iOS platforms and begin their stories of domination today!
Configuration for Rise of Kingdoms
+ iOS: 10.0 and above
+ Android: 4.1 and above
Download now and join the realm of conquest!