Pokémon Masters EX mod apk 2.9.0 (Unlimited Money)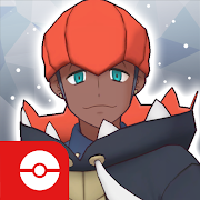 | | |
| --- | --- |
| App Name | Pokémon Masters EX |
| Genre | Simulations |
| Developer | DeNA Co., Ltd. |
| Size | 84MB |
| Latest Version | 2.9.0 |
| Mod info | Unlimited Money |
| Update | August 19, 2022 (1 years ago) |
Plan Your Pokemon Team Now!
Pokemon Masters EX was jointly created by The Pokemon Company and DeNA, and released worldwide in 2019. The story of Pokemon Masters EX occurs on the island of Pasio where players, referred to as Trainers in the Pokemon realm, from around the globe can meet in a tournament to determine the world's greatest Trainer. Each Trainer must recruit various Pokemon and befriend other Trainers to form a three-person team and battle in the tournament.
Unlike other traditional Pokemon games, the gameplay of Pokemon Masters EX is centered on 3v3 battles, so Trainers must carefully strategize and build their teams to have offense synergy while leaving minimal weaknesses exposed. This game does offer single-player and cooperative multiplayer events where players must work together to defeat powerful enemies to receive special event prizes. With over 150 Sync Pairs, or partnerships of canonical Trainers and their Pokemon, available, how will you compose your team to dominate in the tournament?
Sync Pair: The Loyal Partnership Between a Trainer and Pokemon!
A Sync Pair consists of one Pokemon Trainer who has previously appeared in the Pokemon games, anime, manga, or franchise, and one Pokemon that is closely associated with that Trainer. Each Sync Pair has one of three roles: strike, support, and tech.
- Strike Sync Pairs are focused on using high damage output to attack opponents and defeat them quickly.
- Support Sync Pairs are focused on healing, defending, and buffing their entire three-person team.
- Tech Sync Pairs are focused on different tactics, such as causing status ailments like poison, paralysis, sleep, burn, freeze, confusion, charm, etc.
While a balanced team would have one Sync Pair from each category, it is entirely up to the Trainer to compose the right team for each battle!
Experience an Immersive Story and Build Friendships!
The story of Pokemon Masters EX consists of 30 main chapters, 4 villain arcs, and 8 legendary adventures, offering significant content for Trainers to play through and experience. In the main story, each Trainer will start by searching the city for a Sync Pair to join the team, but will soon encounter a group of thugs who are harassing Rosa and Cynthia, two AI trainers.
After assisting them in defeating the thugs, Rosa respects your team, courage, and righteousness and agrees to join you in your journey. She and her Pokemon, Snivy, are the first Sync Pair that each Trainer will recruit onto his/her team. With many more chapters, arcs, and adventures to go, Trainers must continue to work diligently to train their Pokemon and refine their team composition to take down any match-up that stands in their way!
Compete Against Champions!
After completing chapter 10 of the main story and collecting all badges up until that point, Trainers are able to participate in the Champion Stadium, a battle arena where you can challenge each region's Elite Four and Champion. Team composition is critical as each opponent will have different types of Pokemon, so Trainers must have versatile teams to overcome these challenges.
Upon defeating a region's top leaders, Trainer will enter the Hall of Fame with the Sync Pairs that they used in those battles. Once all 18 types of Sync Pairs have been entered into the Hall of Fame, Trainers will unlock Master Mode, which will have tougher opponent advantages to make battles harder. However, the rewards for success are much greater. How will you fend against the defending champions?
Challenge Legendary Pokemon!
The Legendary Arena is a battle area where Trainers can challenge legendary Pokemon by forming numerous teams of Sync Pairs. A legendary Pokemon will be featured for a 2-week period before rotating to another one. The difficulty level (Normal, Hard, and Very Hard) will determine the maximum number of Sync Pairs that a Trainer can use for the battle.
The additional challenge is that once a Sync Pair has participated in the battle, it is prohibited from participating again until the challenge has been reset, or until the 2-week period has elapsed. An important reward for overcoming this challenge is the 5-star Scout TIcket, which Trainers can use to recruit a random powerful Pokemon.
Configuration
+ Android: 5.0 and later.
+ iOS: 11 and later.
Download now and begin your adventurous journey to becoming the next Pokemon Master!