My Talking Tom 2 mod apk 4.1.1.6322 (Unlimited Money)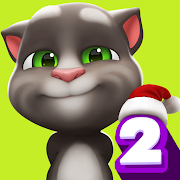 | | |
| --- | --- |
| App Name | My Talking Tom 2 |
| Genre | Casual |
| Developer | Outfit7 Limited |
| Size | 134.5Mb |
| Latest Version | 4.1.1.6322 |
| Mod info | Unlimited Money |
| Update | September 13, 2022 (1 years ago) |
Do you like having pets? Do you want to have it but are too busy to take care? My Talking Tom 2 is one of the best games just for you. My Talking Tom 2 is a fun, simple but addictive virtual cat game. This lovely Tom Cat does not seem to have "cooled down" and is always the number 1 choice of simulation games and animal lovers.
Cute things about My Talking Tom 2 you would love to know
One of the most recognizable features of the game is the form of growing a cat. In the original version, you only have the task of raising a cat named Tom, in this new version of My Talking Tom 2, you can unlock 5 more pets. This function makes the traditional gameplay of the game much more interesting.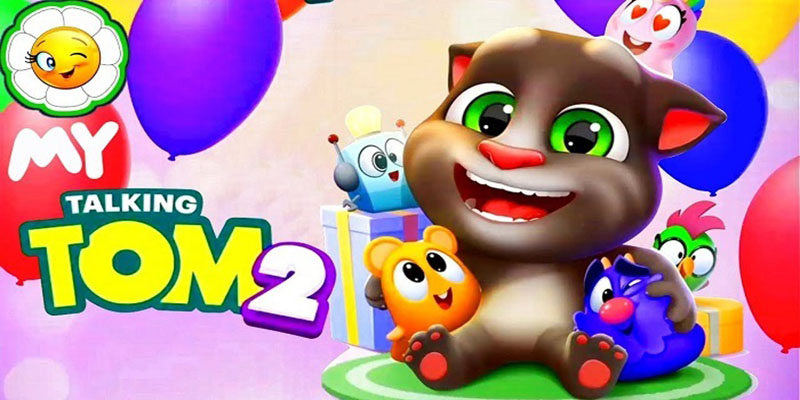 In the game, this little Tom Cat needs you to take care of him by feeding and drinking whenever he is hungry or thirsty. You can also play and tease him by pressing on his arms, legs, belly, or head. Besides, every time you speak, this lovely cat will imitate and repeat your words with his cute and funny voice.
Additionally, you can earn a lot of gold by playing mini-games, doing quests, shopping for Tom Cat the coolest outfits, and showing off your pet to friends through Facebook. Those are the main tasks you need to do in this fun virtual cat game. It is so easy for a virtual pet owner, isn't it?
Necessary instructions to play Tomcat
You should click on the icon marked number 1 below to let Tom cat play mini-games. Playing the game not only helps the cat increase the happiness index to "100%", but the players also receive a lot of gold coins in the game. Some games may be locked because you do not have enough experience points and corresponding levels. You can entertain yourself with many attractive games such as racing, building cake towers, 2048, etc.
How to feed Tomcat
You will click on the icon marked 2 to take Tom to the cafeteria. Here, you can feed Tom whatever is available on the table. You can buy more food directly from the cafeteria by tapping on the cart icon in the bottom left corner of the screen. For Tom to eat but "not full" (the goal is to make him grow fast), you can use Hungry Potion water to make Tom hungry faster and let him eat more.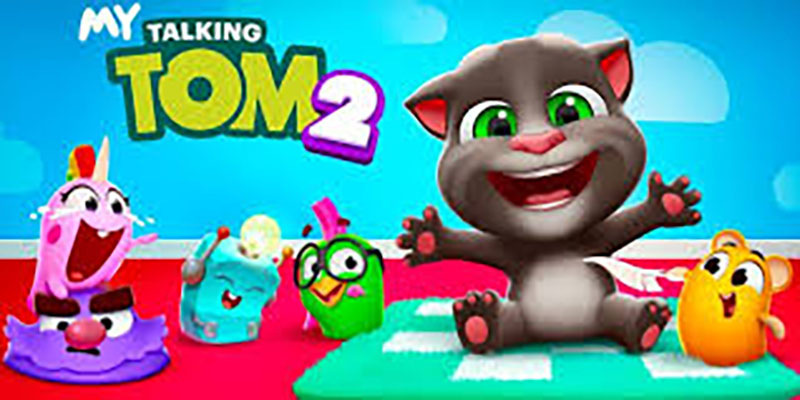 How to clean Tomcat
Now, you will tap on the icon marked number 3 (the "toilet" icon) to take the cat Tom to the toilet. He will go to the toilet by himself when he needs it. Here, you can clean Tom's cat by rubbing a bath sponge around him, don't forget to pull the shower to rinse the soap. After completing the mission, you will receive bonuses and increased experience.
Bedroom in My Talking Tom
When the number marked 4 (the moon and star icon) drops to 50%, it means Tom is sleepy. Let him sleep by turning off the light and waiting until the stat increases to 100%. Or else, you can help Tom wake up immediately by using Energy Potion (50 gold).
A special note for you
Over time, your cat will grow gradually with daily care and play. If you forget the cat for too long without taking care of him, Tom will disappear. And you will have to create a whole new one.
New points in My Talking Tom 2 you may not explore yet
- Upgraded graphics to make everything more intimate.
- Supporting interactive features when players press and hold on the Tom Cat to move as well as perform actions for feeding, going to the toilet, bathing, taking medicine, etc.
- Launching a brand new card collection feature by clicking on the Airplane icon and collecting items according to the cat's level milestones.
Graphics and configuration
Diverse and vivid 3D graphics depict the actions and expressions of the cat such as falling, laughing, doubting, etc. Moreover, players can be amazed by the beautiful colors of clothing items, accessories (hat, socks, sunglasses, ...), and extremely splendid and rich interior. Also, vivid and funny sound effects with every action of the cat: mimic your voice, yawn, startle,... are so fun to listen to and it is very addictive to play with Tom.
My Talking Tom 2 is worth playing
For those who have loved the previous version of My Talking Tom 2, then this version will help you have relaxing moments of chatting with this Tom cat with completely new and unique features. Let's experience and share about your own pet with your friends!