Mutant Fighting Cup 2 mod apk 66.0.3 (Unlimited Money)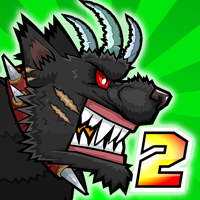 Mutant Fighting Cup 2 is the next version in the Mutant Fighting Cup series from the famous studio Aceviral. Following the success of its predecessor, this next version promises to bring players a more impressive experience, with the freedom to explore endless monsters and enjoy new adventures. With them, fight new monsters that are scarier and have more exciting abilities, and win challenges to become the champion.
Introduce Mutant Fighting Cup 2
Mutant Fighting Cup from Aceviral created a craze in the market when it came out a few years ago. Now fans of the series will enjoy the sequel to the game, helping them live in the excitement of beast battles once again.
The feature of the monsters in the game is that their parts are made up of many different animals. Players will have the freedom to combine the DNA of other animals to create the most impressive monster in the match. For example, your monster could be an animal with the head of a dragon, the back of a hedgehog, the legs of a black panther, the tail of a scorpion, and the rhinoceros' horns. It is the creativity of combining DNA from animals that creates the attraction of this beast fighting game.
Intriguing plot
In the distant future, humans have lost control of their immoral pleasures. The scientists thought that just having ordinary animals in the war was not enough for the cruel desires of man, and they decided to use advanced technology to breed new animals to create powerful mutants with DNA.
You will play as a scientist with the task of creating mutant monsters, collecting DNA fragments to create the strongest monsters, training them to become warriors, participating in bloody battles, and defeating opponents. You will receive a reward for each monster you defeat, depending on the game's difficulty.
Exciting Turn-Based Strategy Gameplay
Mutant Fighting Cup 2 possesses a familiar fighting style with a turn-based fighting game. You and your opponent will take turns launching their moves, and whoever runs out of blood first will lose. You will consume your mana when performing skills, and more specifically, you can sell 3 mana to exchange for a new skill.

Each monster will have its own set of moves based on the properties of the DNA it is made of. Thanks to that, you can control hundreds of unique monsters in the game without getting bored.
Attractive Game Mode System
After completing the training, your monster will be able to participate in epic battles with other monsters. You can play against AI to hone your skills or participate in community tournaments to improve your ranking. The PvP mode will pit you against the world's top monster trainers. Therefore, you will need to prepare a strategy if you want to win.
Diverse Character Collection
Despite being a monster, the characters in the game are designed to be extremely cute, like pets. With hundreds of different pet types, you can unleash your creativity with your beast. The monster you create will be unique, and it possesses extraordinary powers from different animals.
Monster Upgrades
Winning battles will earn your monster's experience and unlock their new levels. As a result, you will be able to collect new combat skills, and you can customize these skills in battle to surprise your opponents. In addition, you can evolve monsters to make them more powerful through improved genomes.
Help Of Power-Ups And Boosters
Those are tools that help you gain an edge in battle. Power-ups and boosters will give your monster a brief boost in strength to launch a decisive attack. However, be aware that these tools are for limited use only, so use them when appropriate.
2D Graphics And Sound System Quality
The game possesses 2D graphics technology, with eye-catching visual effects to make battles more dramatic. The monsters in the game are extremely cute, which increases the game's entertainment experience. In addition, the sound effects are awe-inspiring. You'll hear mighty monster roars, attack effects, and upbeat music throughout the battle.
Download Mutant Fighting Cup 2 Mod Apk for Android
Mutant Fighting Cup 2 is a great choice to entertain your friends and family. The game is based on the fighting style, with beautiful skills and unique monsters. Join this game now to create the most powerful beast and become the best beast trainer in the world.