Mini World mod apk 1.4.40 (No)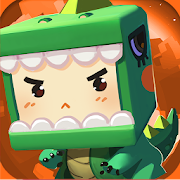 | | |
| --- | --- |
| App Name | Mini World |
| Genre | RPG |
| Developer | Miniplay Inc |
| Size | 413.2Mb |
| Latest Version | 1.4.40 |
| Mod info | No |
| Update | October 03, 2022 (11 months ago) |
Mini World is a survival game that has been attracting a lot of young people recently. This is a game with simple gameplay and cute character creation that surely brings you the most entertaining and relaxing moments.
Let's explore more about this appealing game
In addition to the default survival mode, players also can participate in many interesting mini-games created such as tactics, shooting, puzzles... Do you know that this game always has new upgrades and improvements based on the events that occur during the year? Specifically, every year we have four seasons: Spring, Summer, Autumn, Winter, and events like Tet holidays, Halloween, Christmas, and Mini World. With each such event, the game promises to bring something new for you to explore. Therefore, you will never get bored when playing Mini World - Magic Land.
Download Mini World MOD APK for Android now
Whether you are using an Android or iOS device or sitting in front of a computer or laptop, gamers can play together. In this game, you can build what you desire such as your own house, build an apartment, a castle, or even a dream city. In addition, you can also explore the underworld and challenge the Draft-Dragon with his friends.
Learn about the plot
The plot of this game is the adventure of a team of archaeologists, they go back to prehistoric times and meet primitive people. The archaeological team decided to bring the whole primitive family along with Boom bear back to reality for research. But there is a problem with the time machine suddenly malfunctioning, making them unable to return to reality, but to a strange world. Feeling that there was something unusual about the machine, Professor Stephen investigated and realized that someone had impacted the machine so that it did not create a time hole like the original, but created a space hole. And the strange world they were in was most likely another universe.
Characters in Mini World
The archaeological team includes the characters Professor Stephen, and assistant Peter. Not only that, but they are also accompanied by a support group of Captain Tom, pilot Cindy, and agent Laura. After going back to prehistoric times, they meet an original family of captains and wives with two children, Kaka and Nini. The last character is also the one who created the contradiction in MiniWorld's story, which is Boom Bear. Looking at the way this character dresses, we can find that Boom bear is very mischievous.
And in the game, we will see more Boom-like characters, namely King Yoyo, Little Fish, Dinosaur, Panda, Mini Rabbit, and Crystal Cat - all of them dressed in animal suits. It is highly likely that this is a common feature of a group known as the inhabitants of Mini World.
Boom Bear at that time confessed that he was the one who broke the machine in order to prevent the archaeological team. Boom Bear told the archeology team that he was an inhabitant of this world called Mini World, ruled by King Yoyo, and Boom Bear was the one tasked with destroying the Draft-Dragon which has caused countless space gaps connecting the Mini World game to other worlds. It caused creatures from other worlds to fall into the Mini World. And conversely, these holes also bring creatures from Mini World to another world.
How to play Mini World Block Art for beginners
Step 1: After downloading Mini world Block Art successfully, tap "start" to join the game.
Step 2: At this point, the new world creation panel will appear, click "Create a new world" to create your own world. Click "More Map" to download the new map. Besides, you can create your own map by choosing "Survival" or "Creation" mode.
In the "Dev Mode" section is where you choose the resources in the game. In addition, in this version, you can also choose the type and level of resource display in the game. You can choose monsters and animals for this game.
Step 3: If you want to choose the difficulty for the game, choose "Hardcore mode", you will encounter more dangerous situations.
The game has many game modes for you to unleash your creativity
Solo-player mode
It is suitable for those who want to explore and build a dream empire. You have to try to survive to find materials to build houses, there are many dangers lurking and attacking you at any time. Quickly build a shelter before nightfall, it will help you be safer. During the day, you can go looking for materials, tools, and food to live.
Multiplayer mode
When you play with your friends, the level of the monster will be stronger to increase the difficulty of the game. In this mode, you and your friends have to find materials to build an empire together and support each other in order to accelerate the process of building. Moreover, Mini World also has a gardening mode for those who want to generate their own gardens of many strange plants with diverse duties. After you finish, you will receive money to buy many items in the game.
Mini World is suitable for all ages, don't hesitate to download it and play with your friends!