King of Crabs mod apk 1.13.0 (Unlimited Money)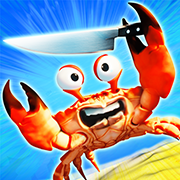 | | |
| --- | --- |
| App Name | King of Crabs |
| Genre | Simulations |
| Size | 199.2MB |
| Latest Version | 1.13.0 |
| Mod info | Unlimited Money |
| Update | September 28, 2022 (12 months ago) |
King of Crabs MOD APK will help you explore the deep blue ocean and witness an exciting competition between crabs to find the crab that dominates the sea. Since its launch, this game has immediately become a big hit in the community with its fresh and attractive gameplay, various and fun crab characters, modern equipment and weapon system, and beautiful graphics. Join now in a unique battle royale between crabs, show your superb control skills, and become the last survivor crab.
Download King of Crabs MOD APK for android
The ocean is a vast ecosystem and contains millions of different species of creatures, which always makes people curious and want to explore. In the deep ocean, marine species always have to fight for their existence every second, and the game from Robot Squid gave us a fascinating idea of ​​that. Transforming into a warrior crab, you will have to join the large-scale war of crabs living in the ocean and destroy all other crabs to become the King of Crabs.
The competitive survival battle will be where you need to show your fighting skills to assert power with other crabs. Not just your claws, you will need heavy equipment and weapons to fight off interesting enemies at sea. Join uncompromising battles, defeat every crab that stands in your way, and become the strongest crab in the ocean.
Robot Squid's game has received over 5 million downloads from the Google Play store since its launch. That is an impressive number and proves the great appeal of the game to players. Collect and upgrade rare crabs, join the battle with over 100 other players, enjoy smooth touch controls, and top-notch 3D graphics are what you can expect in King of Crabs.
Intense competition
You will have to fight more than 100 other crabs to become the King of the ocean. To win, you will have to fight with the utmost concentration and use the right strategies. But the bigger crab will have more advantage in battle, and you need to feed your crab more bait to make it bigger and have more power.
Your bait is very diverse. It can eat common baits such as starfish, snails, or smaller crabs. You should not risk fighting with larger crabs when they have superior strength and easily turn you into their bait. Eat the small crabs first to gather strength and get bigger in size, and you can kill all the other crabs later.
Diverse character system
You can freely explore countless different species in King of Crabs. Take on game missions to collect gold and unlock more impressive crabs. The crab species in the game all possess unique appearances and fighting skills, helping you enjoy dramatic and intense battles.
Besides, the game allows players to collect resources and upgrade their crabs for better power. Upgraded crabs will have excellent skills and abilities to create epic and beautiful attacks. In addition, you can customize interesting and unique shell textures on your crabs to help your crabs stand out from other crabs on the battlefield.
Simple control mechanism
It is not difficult to get used to the control mechanism of the crabs. You just need to use a very simple touch to control the crab to the desired position, then the crab will automatically attack the enemy with the skills it has. This simple mechanism will make it possible for you to enjoy the game without much effort, during which time you can sit back and enjoy the epic battle between the crabs.
Discover dozens of exciting combat weapons
The battle between the crabs will become much more intense with the participation of various heavy combat weapons. You can collect combat weapons scattered across the map or steal them from enemies you've defeated. Thanks to these weapons, the crab will have outstanding strength and destroy opponents quickly.
The weapons in the game are extremely diverse. It could be crab hammers, axes, baseball bats, or bottles scattered on the beach. Pay attention to collecting these weapons as you roam the map and use them to give your crabs the most firepower and make the enemies tremble. You can observe the minimap to detect the enemy's location and where the loot boxes are located. As a result, you will dodge larger enemies and collect as many weapons to increase your power as possible.
Experience 2 game modes
The game offers 2 distinct game modes, and each has its own interesting challenges and characteristics for players to enjoy and explore. PvE mode is where you will play against AI to practice. You will go through simpler challenges to get used to the game, where there are no intense battles but simply a crab-eating contest. However, the challenges will be much more difficult with PvP mode. This is where you will fight with 100 other players to choose the last surviving crab.
Stunning 3D Graphics
King of Crabs simulates intense crab battles with brilliant animations and amazing visual effects. The battle on different maps is vividly reproduced with realistic strokes and bright colors. Besides, the unique and fun design of the characters also creates excitement for players.
Besides, the sound experience in the game is also extremely great. You will feel the unique sounds of the ocean with realistic sound effects along with the powerful and attractive sounds of the battle.
King of Crabs is a great entertaining fighting game that helps you relieve stress and fatigue by participating in the exciting and funny fight of armed crabs. The MOD APK version of the game will remove annoying ads and give you unlimited money, helping you unlock any powerful crab you love. Download this game now to join the most intense war of the ocean, destroy every crab that stands in your way, and become the King of Crabs.