Hills of Steel 2 mod apk 2.11.0 (No Cooldown)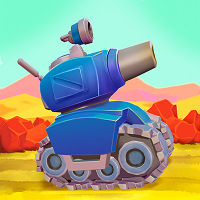 | | |
| --- | --- |
| App Name | Hills of Steel 2 |
| Genre | Action |
| Developer | Superplus Games |
| Size | 147.1MB |
| Latest Version | 2.11.0 |
| Mod info | No Cooldown |
| Update | October 05, 2022 (11 months ago) |
Hills of Steel 2 is the game that brings excitement and great action to tank lovers. In the game, you and your teammates will control heavy tanks to fight and destroy all enemy tanks to win. In addition, you will enjoy a variety of game modes and attractive rewards to upgrade your tank, win more, and enjoy the fun with your friends.
Hills of Steel 2 MOD APK
Superplus Games, the famous game developer from Finland, has followed the huge success of Hills of Steel and released the next version of the game. The newly released version shows significant improvements in the two most important factors, graphics and control mechanisms, promising to bring players more drama, madness, and fun in tank combats.
The game will help you become a tank driver with high shooting skills. You will choose one of the many unique, cool, and high-damage tanks in the game to be your companion on your way to blowing up your opponents. The game offers a variety of game modes, and each level will allow you to use special cars to overcome it. Show your super shooting skills while driving the tanks and destroy all the opponents to win.
Fierce And Uncompromising Tank Battle
Hills of Steel 2's gameplay will not be much different from the previous game version. Endless battles will be divided into 2 explicit factions on the battlefield, with 3 tanks on each side. A unique terrain system will be used throughout the game levels, and you will control the tank forward/backward and fire rockets to destroy enemies.
You will be awarded one point for each tank that you successfully destroy. Battles will take place for a limited time only. At the end of the allotted time, the side that destroys all of the opponent's tanks or has more points wins.
Simple Control Mechanism But Requires Teamwork
The Control Mechanism is something worth mentioning here. With fighting on an open battlefield, you will not be able to attack stealthily when both sides open fire at each other directly. However, the terrain part of the game still has slopes so that you and your teammates can cover each other and recover every time the enemy attacks fiercely.
The navigation keys in the game are designed quite simply. The functions of moving forward/backward will be on the left side of the screen so you can move the tank depending on the battle situation, while other skills, such as aiming and using special abilities, will be located on the right side of the screen.
Chaos and high risk are critical factors in bloody battles, and that is perfectly demonstrated in Hills of Steel 2. Make the most of the terrain to gain more advantage in the game. war. You must have the maximum concentration to dodge the opponent's attacks, and at the same time, counter and destroy them quickly to win a resounding victory with your teammates.
Teamwork is also essential in affecting victory in the game. It is not a solo game, and you always need the support of your teammates to destroy the enemy successfully. If you fight alone, you will be quickly destroyed. Be aware that if you can't blow every enemy out on your own, the scoring system will determine the winning side, and that shows how important your teammates are.
Stylish And Impressive Tanks
Tanks are the core of Hills of Steel 2. The game library contains a wide range of different tank models. They vary in size, design, color, accompanying weapons, and special skills. First, the Joker car model is the default model you are used to at the start of the game. They only allow you to fire regular bullets, but with it comes a faster rate of fire than other tanks.
Next, you will unlock the Stinger tank, the most prominent feature being the advanced missile system. This system allows you to fire up to 6 missiles in a single attack, dealing a large amount of damage to blow away enemies. However, its weakness lies in the fact that this attack takes a long time to recharge, and your side will have to defend hard all the time to avoid being destroyed.
Besides, you can use the Gatlyn tank. This model uses a machine gun with quite large damage and fast vehicle movement speed. With such a great power advantage, you can only unlock this car when you have enough money and reach a certain level.
In addition, there are many other car models in the game store for you to experience and explore. These can be mentioned as Shift, a unique spider-shaped vehicle, or Scorpion, a car with stubbornness with 3 times the health of a standard tank.
Upgrading Tanks And Accessories
In addition to excellent shooting and teamwork, you also need to upgrade your tanks to increase destruction and improve your chances of victory. With weapon enhancements, your tank can fire different types of ammunition or deal different types of damage to opponents.
The rewards for wins or cars that you destroy are cards. Collecting these cards will help you unlock upgrades for the vehicle you are using. For example, if you are using a Joker vehicle, you will need a specific amount of Joker cards to upgrade it to a new level.
As your car is upgraded, the equipment system will also be improved accordingly. You will unlock additional equipment slots at specific levels, such as 1, 5, and 10. As a result, your vehicle can add destructive weapons and increase its damage. rival tanks.
Download The Game Hills Of Steel 2 Mod Apk
In the MOD version of Hills of Steel 2, you will not need to wait for the mana regeneration time to use the attack. Thanks to that, your tank can attack the opponent continuously and gain an advantage on the battlefield.
Hills of Steel 2 is an exciting and dramatic tank battle game for players who like fiery battles but are equally interesting. The game is one of the most loved Android games of 2019. Join now in this exciting game to destroy enemy tanks with your teammates and enjoy the fun victories together.