Gunship Battle: Helicopter 3D mod apk 2.8.20 (No mod)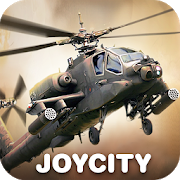 | | |
| --- | --- |
| App Name | Gunship Battle: Helicopter 3D |
| Genre | Action |
| Developer | JOYCITY Corp. |
| Size | 82.6Mb |
| Latest Version | 2.8.20 |
| Mod info | No mod |
| Update | October 05, 2022 (11 months ago) |
Gunship Battle: Helicopter 3D is a type of plane shooting game that can be addictive for you due to the exciting features and simple gameplay that the game brings. You will enjoy flying your favorite planes in the sky and destroying enemies along the way. At the same time, you can access a collection of state-of-the-art weapons, which are the tools to help you become the hegemony in the sky. Sounds appealing, right? Read the article below to learn more about this exciting action game.
Gunship Battle: Helicopter 3D MOD APK
Since its launch in 2014 until now, the game has always kept its hot level when it continuously received positive reviews from players worldwide. This is understandable when this game provides players with a simple role-playing game with unique 3D graphics to bring the most realistic experience.
In this game, your goal is to try to master the fight and win. You will have to master various aircraft equipped with modern weapons to defeat enemies quickly in many different terrains. Each place hides separate dangers, threatening your life at any time. Therefore, to be able to win, you must possess high combat ability, sensitivity, and intelligence.
Addictive Gameplay
Coming to Gunship Battle: Helicopter 3D, you will be transformed into a brave air soldier. He is described as an excellent person and is always trusted to take on challenging tasks. So, your task in this game will be to control a fighter and destroy all enemies on the ground or dense combat terrains from jungle to military archipelago.
The missions will not be easy to pass. Flying a plane is a difficult challenge for anyone, and you will be responsible for it when controlling your flying battleship. The aircraft navigation keys will be on the left side of the screen, and you will also have to tilt your phone to the side to adjust the flight trajectory of the plane. To attack enemies, use the keys on the right side of the screen. They represent the bullets that you have. Wait for the enemy to move to the target and fire to destroy them.
A Series Of Attractive Missions
Gunship Battle knows how to make players not bored when providing a series of dramatic missions. Right at the beginning of the game, the system will give you a simple helicopter to fight. Of course, after light missions, you will have to face more complex tasks, such as confronting the enemy's modern weapons or occupying large enemy bases, and so on. At this point, the game will require you to be responsible and highly skilled to be able to complete the tasks without being defeated by the opponent.
Varied Aircraft Collection
Gunship Battle's attraction comes from its diverse aircraft collection. This is the gathering place of the most modern and unique aircraft. They are designed with an interface and structure that is no different from the air combat aircraft you can see in real life.
At the beginning of the game, you can only own the Little Birds plane. However, later on, you will have the ability to own many other advanced aircraft through the mission completion bonus, or you can use the bonus to buy aircraft. To upgrade your collection, you can refer to some high-end aircraft, such as Tier 5 or Fighting Falcon, with accompanying equipment, such as missiles, radar, and more. Each plane will have a different function. So read them carefully before buying to fit your strategy.
Upgrade Your Plane's Weapons
Your plane will have more firepower and quickly destroy enemy planes when you upgrade it from the rewards you get for completing missions. There are many weapons you can choose from to complement your plane, and you can take a stroll through the game store to find the right weapon for your fighter. Use small volleys of bullets to destroy enemies at high flight speed, and when you notice enemies are close together, use highly destructive bombs to blow up all enemy planes at once.
Graphics and Sound
Graphics is one of the strongest points of Gunship Battle: Helicopter 3D. The fighters are designed in different styles with sharpness and attention to detail. Besides, the scene in the game is also elaborately invested in making the battles as realistic as possible. The visual effects section of the game received a lot of praise from the gaming community, as it depicts very fierce and impressive battle scenes, giving players a dramatic and entertaining flying experience.
The sound also contributes to the appeal of the game. Gunshots, planes crashing, rockets blowing up planes, and so on are all carefully crafted by the game's sound team. Therefore, you will be completely immersed in the world of combat aircraft when playing Gunship Battle.
Download Gunship Battle: Helicopter 3D MOD APK
The MOD APK version of Gunship Battle: Helicopter 3D will give you unlimited money to comfortably shop for the most advanced fighters and the most modern weapons to quickly destroy enemies. They will help you get the smoothest pilot experience without investing too much time in the game.
Overall, Gunship Battle: Helicopter 3D MOD APK is a quality aircraft shooting game in the series. It comes with simple gameplay but possesses excellent graphics, a variety of missions to perform, and a top-notch weapon and fighter system. Download this game now to enjoy the feeling of flying in the sky, destroying all enemy planes, and winning resounding victories.