Earn to Die 2 mod apk 1.4.43 (Unlimited Money)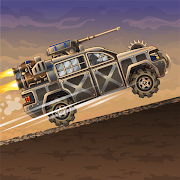 | | |
| --- | --- |
| App Name | Earn to Die 2 |
| Genre | Racing |
| Size | 76.0Mb |
| Latest Version | 1.4.43 |
| Mod info | Unlimited Money |
| Update | October 03, 2022 (11 months ago) |
Earn to Die 2 was released following the success of the first installment, confirming its appeal in the zombie-killing video game market. Earn to Die 2 features the well-known off-road driving gameplay, in which players control their vehicle through hazardous obstacles, rough roads, hordes of bloodthirsty zombies, and other interesting things that the game offers.
Download Earn to Die 2 MOD APK For Android
The zombies theme is consistently the most popular subject for game developers to capitalize on and develop to produce top-notch products, in this version, it has been upgraded with many interesting features to give users the best possible experience. To take part in the thrilling chase with terrifying zombies, download Earn to Die 2 right away for Android devices.
Introducing Earn to Die 2
In Earn to Die 2, zombies have taken over the world and are shambling around looking for humans. The government then coordinated the evacuation of all survivors . The survivors will board a ship and be transported to a new, secure location. You are one of this nation's few survivors.
However, the ship is a long way away from you and will soon relocate to a new safe location. If you don't arrive in time, you will be stuck here permanently. To survive and get to the evacuation point in time, you must use your car to drive through the horde of zombies, attack, and destroy them.
In version 2, there are no longer any restrictions on the game's races like there were in version 1. Instead, the race is divided into days, and players must complete daily tasks.
Gameplay Earn to Die 2
Players can enjoy incredibly innovative and captivating gameplay in Earn to Die 2. In contrast to typical racing games, this one requires players to steer unique off-road vehicles over perilous terrain while battling and destroying terrifying zombies.
With new gameplay, the game's car is undoubtedly very unique as well. Instead of using standard racing vehicles, the car is fitted with unique components like cannons, jet propellers, or swords up front to fight the bloodthirsty zombies.
However, you must proceed through each screen to earn money and gradually upgrade your car in order to obtain those powerful pieces of equipment. Players will undoubtedly feel a sense of excitement and conquest as a result of the wide variety of exciting vehicles and equipment available.
In order to win the game, the player must use high levels of ingenuity to navigate challenging terrain, overcome obstacles, and defeat zombies along the way.
Features in Earn to Die 2
When playing the game, you will steer your car down a road that is loaded with deadly traps, steep slopes, and huge obstacles, as well as zombies who are constantly attempting to stop you. The game's interesting feature is how the track will be broken up into a variety of stages. Every time you complete a stage, the game saves your achievement, and the next time you play, you will continue from where you left off.
Upgrade Vehicles
Depending on the energy of the car and the engine you have equipped, you will travel long or short distances during each play. The player will receive the appropriate amount based on the distance traveled, which enables them to upgrade the vehicle's equipment.
Therefore, until your car has enough power to finish a race, there are numerous exciting races with a sizable map waiting for you to beat. Upgrade the vehicle as much as possible to provide exceptional power to meet all obstacles.
Graphics and Sound
The racetrack, the obstacles, and the zombies are all built vividly and realistically in the game's graphics, which are detailed by the creator.
The game's racing cars, which come in a variety of designs and each with distinctive features that are very appealing, are the special thing that is concentrated on building. Earn to Die 2-specific equipment is also attractively designed and has a distinctive look.
Another element that adds to the appeal of the game is sound. The roar of the engine and the realistic sounds of the car slamming into obstacles, sweeping zombies aside, all work together to make the game sound appealing to players.
Conclusion
This game will be the perfect choice for you because of the action gameplay and the gripping off-road racing. You will get a taste of each race's ferocity when you play Earn to Die 2. Battle hordes of merciless zombies while controlling your car on hazardous routes. Take part in the game right now to experience more of its fascinating features.