Blockman Go mod apk 2.23.3 (Originals)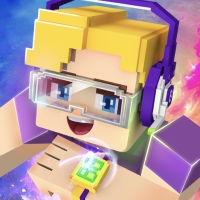 | | |
| --- | --- |
| App Name | Blockman Go |
| Genre | Arcade |
| Developer | Blockman GO studio |
| Size | 140.8Mb |
| Latest Version | 2.23.3 |
| Mod info | Originals |
| Update | October 28, 2022 (1 years ago) |
Are you a fan of Minecraft looking for a new challenge? Want to explore Minecraft but don't have enough time to travel to the world of blocks? Blockman GO will be the solution for you. This game is like a miniature version of Minecraft, simpler, shorter, and more challenging.
Blockman GO MOD APK is an excellent reward for longtime Minecraft fans. The game contains many interesting mini-games, combined with beautiful graphics and vivid sound, promising to bring an entertaining and relaxing experience to you.
Blockman GO MOD APK
Game is a collection of minigames and is produced by a studio of the same name. The game is extremely suitable for those passionate about the Minecraft genre but afraid to explore a large and majestic world. You can entertain with a series of attractive games built on the sandbox platform.
Besides, the game still retains the free-exploring style of its predecessor. You can do everything in this game, from opening a coffee shop, becoming a hero to defeat bad guys, becoming a disruptor and teasing people, or building your ideal city. Anything is possible with Blockman GO.
With the familiar 2D pixel square style, the game does not have a confusing plot but a simple and easy-to-understand task list. Therefore, it is suitable for everyone and deserves a great choice to relax on the weekend.
Enjoy Various Mini-Games
The game offers players a series of Minecraft-style mini-games. You are free to roam the game's world and choose one of the exciting mini-games to experience. Each game has its own character and mission, with different color tones and images, but what they all have in common is simple and accessible gameplay.
Some of the best games you can out include Bed Wars, Egg Wars, Skyblock, Jailbreak, Hero Tycoon, and many more. These games are all built from square blocks but have different missions and ways of performing tasks. Therefore, you will never get bored.
To join the game, you only need to perform a few simple steps to customize the character, including appearance, color, and accompanying equipment. Then you just need to choose the difficulty and start the game.
Your reward after completing the mini-games is the amount of gold equivalent to the game's difficulty. Gold can be used to purchase items and different weapons for your character. After that, you can choose whatever appearance you want for your character, from a beautiful girl, cool boy, or strong athlete, to a strict teacher. Build your character's appearance according to your style.
Build Your Ideal World
The construction element is also a notable feature in the Minecraft series. By joining Blockman GO, you can freely build the world in your imagination in the most perfect and true way. Build modern cities filled with roads, factories, restaurants, hospitals, and skyscrapers, and then enjoy watching everything you've built.
After building your ideal world, you can play whatever role you like. You can become a hotelier, dangerous criminal, doctor, engineer, singer, actor, or whatever role you want to experience. Entertainment and creativity are all you need when playing Blockman GO.
Intuitive Controls
It's not difficult to learn how to control characters in Blockman GO. On the left side of the screen is a virtual joystick, which helps you navigate the character. In contrast, to the right of the screen are function keys that help you build the world, perform in-game quests, and entertain with mini-games.
Game Modes and Community Interaction
Joining Blockman GO with friends is definitely a much more enjoyable experience than playing alone. You can invite your friends to work together to build structures or team up with your friends to complete in-game quests and win mini-games.
Each mini-game will have a ranking system to evaluate the player's level, and there is nothing more exciting than winning with your friends over other opponents to advance in the game's community rankings. Before joining the games, Blockman GO will provide a detailed gameplay guide to familiarize you with the mini-games. Therefore, everything is intuitive and easy when playing Blockman GO.
In addition, the community interaction factor is also something that the publisher focuses on. The game offers a complete chat system, allowing you to chat with your friends and players worldwide. You can send private messages to discuss tactics or join group chats to share experiences when playing mini-games with the gaming community.
Graphics and Sound
The typical graphics of Minecraft will appear in this game. The entire world in the game, including the setting, cities, nature, people, vehicles, and other items, is created from squares of all colors and sizes. The creativity of the manufacturer seems to have no limits. With only tools that are rudimentary blocks, learning has created a large, colorful, and interesting world for players to explore without getting bored.
In addition, the sound is also a strong point of this game. The game's main screen will play soothing music to relax as you explore the world. However, when participating in mini-games, the background music will become more dramatic, with a faster speed to match the atmosphere.
Play Blockman GO MOD APK
Blockman GO offers Minecraft fans a light, simple, but entertaining option. The game is suitable for audiences of all ages to relax and stimulate creativity. The MOD APK version of the game will provide an unlimited amount of money, making it easy for you to buy the necessary equipment and accessories in the game.