BATTLEGROUNDS MOBILE INDIA mod apk 2.8.0 (No)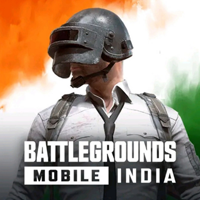 | | |
| --- | --- |
| App Name | BATTLEGROUNDS MOBILE INDIA |
| Genre | Action |
| Developer | KRAFTON,Inc |
| Size | 70.8Mb |
| Latest Version | 2.8.0 |
| Mod info | No |
| Update | October 05, 2022 (1 years ago) |
Battlegrounds Mobile India is a dramatic smartphone shooting game that lets you experience the battle for survival against other enemies. Compared to the original Battlegrounds game, this version helps Indian players feel more realistic as the map, terrain, and buildings in the game are inspired by this vast Asian country.
Battlegrounds Mobile India MOD APK
Battlegrounds Mobile India belongs to the third-person shooter battle royale genre and is developed by KRAFTON studio. With the traditional battle royale genre, you will play as a mercenary, parachute from a helicopter to land with hundreds of other players on a mysterious land, and destroy all other players to become the last survivor on the battlefield.
Immediately after landing, you will, in turn, explore specific locations and experience buildings with diverse designs containing various items that you can pick up. These items include the necessary weapons and equipment for the war. If you are lucky, you will pick up powerful equipment, giving you incredible firepower and quickly destroying opponents.
A world full of dangers awaits you and hundreds of other challengers. Fierce battles will take place at high speed and unlimited surreal 3D scenes. You can hide and wait, but the constant shrinking of your comfort zone puts enormous pressure on you. If you stay out of the safe zone for too long, you will lose blood and die.
Strategy Plays An Important Role
Battlegrounds Mobile India is a fierce shooter, but without a smart and reasonable strategy, you will quickly be destroyed. Your task is to move wisely, hide from dangerous enemies, coordinate well with teammates, and destroy opponents as soon as possible.
The game's vast battle map is the basis for you to be creative with your strategy. The game has many terrains with different objects that you can use to hide from enemies, such as walls, buildings, or rocks. In situations where you are suddenly attacked, you can use smoke bombs to reduce the opponent's vision, helping you to escape safely. In addition, if you are hiding in an unexpected position, you can quickly transform into a sniper and headshot the opponent, making the opponent unable to react.
To make your attacks more unexpected, you can upgrade your weapon's attachments, such as silencers. That makes it possible to attack quietly, and the enemy won't be able to find out where you are. The silencer is, therefore, an essential item, and it optimizes the effectiveness of your stealth strategy.
Weapon System
The game provides a huge arsenal of weapons for you to experience. However, in the early game, you will depend on luck to pick up powerful weapons where you landed from the helicopter. Each weapon will have a different characteristic, and you need to know that to use the right weapon for certain situations. In addition, these weapons are also simulated with high accuracy compared to reality, giving you a realistic combat experience.
India-style Map
From the game's title, you can already guess the country it's inspired by. The game offers various types of maps, and all of them are designed based on buildings in India. The map system in the game includes Paraty, Welad, Bakrol, and many other terrains.
Besides, the Indian theme also helps players enjoy impressive costumes in the style of this country. You can use the money to buy these unique skins from the game store, giving your character an eye-catching and cool appearance.
Keep Yourself In The Safe Zone
As I said, the hiding strategy can be most effective, but that's when you never get out of the game's comfort zone. This safe zone will be huge when the game starts, but it will gradually shrink over time and put tremendous pressure on players who are outside this comfort zone.
The game will let you know how much time is left before the safe zone narrows on its own and the battle becomes more intense. Therefore, pay close attention to this. You can ambush at the edge of the safe zone to snipe inexperienced players and rush into the safe zone. It's also a pretty smart strategy.
Teamwork Is Very Important
Battlegrounds Mobile India is a survival fighting game, and if you join your friends, you must make the most of teamwork to help your team win. When you are stunned by an enemy attack, your teammates can cover you and give you time to heal. In addition, when the match has less than 10 survivors, you can even sacrifice your life to protect your teammates because as long as the last survivor is on your team, your team will win.
Top-Notch Graphics And Sound
There is no doubt about the graphic quality of a famous game like Battlegrounds Mobile India. The publisher has used Unreal Engine 4 technology and created a realistic, beautiful, and extremely detailed scene. Fierce battles will be described with drama and suspense, with beautiful visual effects from attacks of different weapons, fire, smoke, and blood. Combined with immersive sound effects, you'll have the ultimate battle royale shooter experience.
Download Battlegrounds Mobile India MOD APK
Battlegrounds Mobile India is a game not to be missed for fans of this series. The game especially appeals to Indian players with its detailed background and maps that are typical of this country. Download this game now to destroy all enemies with the most powerful weapons and be the last survivor.