Plants vs zombies 2 mod apk OBB 10.8.1 (Unlimited Coins/Gems/Suns)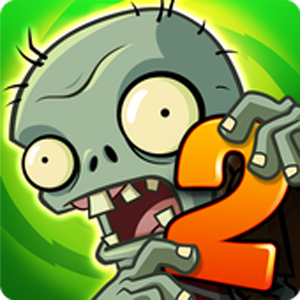 | | |
| --- | --- |
| App Name | Plants vs zombies 2 |
| Genre | Casual |
| Size | 725.3Mb |
| Latest Version | OBB 10.8.1 |
| Mod info | Unlimited Coins/Gems/Suns |
| Update | August 02, 2022 (1 years ago) |
In 2013, EA officially released Plants Vs Zombies 2 which is an incredibly updated version of Plants Vs Zombies, and it has attracted hundreds of millions of players' attention all over the world. If you like defeating different types of zombies, this game is obviously for you!
The plot of Plants Vs Zombies 2
Now, we should rewind to the original Plants Vs Zombies game. After defeating Dr. Zomboss on the house's roof and continuously combating with zombies in the front yard, those aggressive zombies were beaten. Then, the player received hot sauce and gave it to Crazy Dave, a chubby guy with a weird style who always wears a pot on his head and loves tacos with chili sauce. He was also willing to do anything to be able to eat his favorite cake.
The story began when he desired to eat tacos one more time. He brought a car named Penny - a time machine tasked with taking him back to the past to find his favorite tacos. In addition, this Penny will introduce the game, how to play, as well as the dangers that lie ahead.
Crazy Dave and Penny returned to ancient Egypt, revealing that they traveled 4000 years ago. The journey begins!
Gameplay
Although this type of game is defense, the gameplay is quite strange compared to other games of the same genre. Instead of having to build walls or fortresses around the enemy's path, the players must build a protective garden directly with the crowded and dangerous zombie groups. The game requires players to have logical thinking to choose the right plants and arrange them in a reasonable way to win. Additionally, it is necessary to have more agility to handle 'emergency' situations in the game so that zombies cannot attack Crazy Dave.
Besides protecting Crazy Dave, players need to complete some missions at each stage such as producing enough sun, protecting plants required, not crossing the flowers line required, etc. It is not strange when players need to play those challenging stages many times.
Moreover, players have to make an effort to collect keys to open new maps, as well as diamonds in buying plants or boosts, and gold coins to be able to use support when needed. This is a completely new element in the game when giving support, to help players get out of difficult situations. Plants Food gives plants tremendous power when used, and each plant has a unique ability. Other forms of support, depending on the level of effectiveness, will have different costs.
New things you may not know about Plants Vs Zombies 2
Diversity hundreds of plants
One of the most wonderful upgrades is the significant increase in the number of plants. From Bonk Choy with punches as fast as lightning in short range to Laser Bean with shooting through all the enemy lines and eliminating all hordes of vicious Zombies.
Power leaves
These are extraordinary supports for gamers to turn difficult situations into easier ones on the game screen. With Power support, players can collect green leaves when defeating random zombies, click on them then select the plant you want to use the strength. Each plant species has very strong explosive moves, so players will surely be surprised.
The other types of support are also great, but to use them often costs an amount of money that players have to collect in the battles or invest a large amount of money in. This is considered the last way to use if you have a difficult situation on the game screen.
Not all plants can be used.
It seems that this is an intelligent way for PopCap to sell some high-powered plants in Plants Vs. Zombies 2 such as SnowPea, Jalapeno, Torchwood, etc. Players need to pay a fee, usually $2.99 to unlock and use these plants.
Long adventures with eleven disparate worlds
From Ancient Egypt to the Renaissance Age, players need to engage in combat throughout 11 bizarre worlds. There are always different tasks from easy to hard to overcome with more than 300 levels, extremely difficult infinite zones, mini-games, and daily Pinata Party events. Additionally, get ready for the final battle because Dr. Zomboss is always waiting to confront you at the end of every planet!
Greater quality graphics.
The graphic details in Plants Vs. Zombies 2 have been generated more meticulously by PopCap, helping to attract players to this game. Not only are plants lively, but zombies also have different funny outfits, making the game less scary to be more suitable for all ages.
Plants Vs. Zombies 2 is worth playing
Overall, Plants Vs. Zombies 2 is a mobile game that anyone can experience even just once because of its creativity, beautiful graphics, witty and lively images. Download and experience it as this game will surely not let you down!