Dragon City mod apk 22.3.2 (Menu, God Mode, Massive Damage)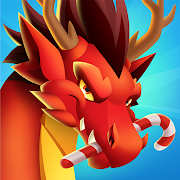 | | |
| --- | --- |
| App Name | Dragon City |
| Genre | Simulations |
| Developer | Social Point |
| Size | 141.1Mb |
| Latest Version | 22.3.2 |
| Mod info | Menu, God Mode, Massive Damage |
| Update | August 03, 2022 (1 years ago) |
Do you have a passion for funny animals in general and animated dragons in particular? So it is believed that the Dragon City game completely meets your needs. Although the "pets" in this game are dragons, don't panic, the creator of this game built them in a very cute way and promises a lot of interesting things about power as well as other features in the game. Now, let's explore deeper about this game.
Dragon City – a game for all ages
Let's go back to ten years ago when the trend of games on social networks was at its most popular, Social Point released Dragon City on Facebook in May 2012. Dragon City is a strategy game in the simulation genre, raising virtual pets. The way to operate the game is similar to a managing game when the players have the task of taking care of and raising their dragons. The highlight of the game Dragon City is really true to its name, players have the right to own a dragon kingdom along with hundreds of rich and diverse dragon types.
Types of dragons
The dragons on the island are divided into 15 elements: Earth, Fire, Water, Leaf, Electricity, Ice, Metal, Wind, Darkness, Light, Magic, Legend, Purity, Warrior, and Ancient. These elements will have opposite rules with each other, which can be mentioned as Earth is reverse Electricity and Darkness, Fire Leaves and Ice, Water is opposite with Fire and Warrior, Leaves is contrary Water and Light, etc. Players need to understand this rule to become winners of the matches.
During the nurturing process, players need to monitor the development of dragons, depending on each type they require different foods and different environments, the reasonable arrangement in the order will determine the growth. The dragon's growth is fast and the players can earn more gold. You should know that dragons are classified according to different rarity in order: Common, Rare, Very Rare, Epic, Legendary, Heroic.
Typical hybrid dragons
Remember that the longer the hybrid time, the higher the rarity. You can refer to some typical hybrid dragons below:
- Wind dragon, a mix between Soccer Dragon and Armadillo Dragon. This is a combination of two rare species with a total hybridization time of 4 days (2 spawning days and 2 incubating days).
- Pirate Dragon, is a combination of Dark Dragon and Mud Dragon. This is a rare species with a reproducing time of 4 days and an incubation period of 15 hours.
- Pure Unicorn Dragon - a kind of pure dragon. This dragon is a combination of legendary dragon pairs such as Legendary Dragon and Crystal Dragon; or Wind Dragon and Mirror Dragon, …
- Ice cream Dragon, is a hybrid dragon breed from two elements Water and Ice, equivalent to two dragons Water Dragon and Ice Dragon.
When they were small, the dragons looked very cute, as promised about the fun. When they grow older, their appearance will become more beautiful and cooler. The more advanced the dragons, the more polished their appearance. At the same time, along with the perfect appearance, attracting the player is the increase in strength and the newly accumulated skills.
Arena
In addition, there is another feature that has not been mentioned yet, which is the arena of these dragons. This arena is the place for our "pets" to show their strength, and bravery and assert their position. In the Dragon City Game, there will be a ranking chart recording the top positions of talented dragon breeders, who have successfully defeated other dragon trainers. Dragons participating in this tournament will have the opportunity to face all kinds of strong opponents from Rare to Heroic. After each victory, the player will receive Gems. And the amount of gold and gems earned during the game, players can use as they want: buy and sell dragons, buy decorative materials or food, habitat for their dragons... at the store.
Is the Dragon City game difficult to play?
This game is for children aged 4 and older, so it is not complicated to understand how to play, and most players also rate this as a very simple game without being boring. Gamers just need to know some rules and properties of dragons only.
Funny image and soothing sound
It is easy to find that beautiful 2D graphics with bright colors, and funny and unique dragon shapes, clearly show the elements they own. The constructions are not only solidly designed and magnificent, but also very ancient. Moreover, the background music in the game is fun, mellow, and melodious but will become exciting when the player enters any battle. Players even can feel that the sound when manipulated in the game is gentle, and not too noisy, creating a comfortable feeling for players to experience.
Dragon City is worth playing
With simple, accessible gameplay, eye-catching graphics, and soothing sounds, Dragon City is the right choice for players who like a gentle, relaxing experience. Currently, the game is free, please download and experience it right away!